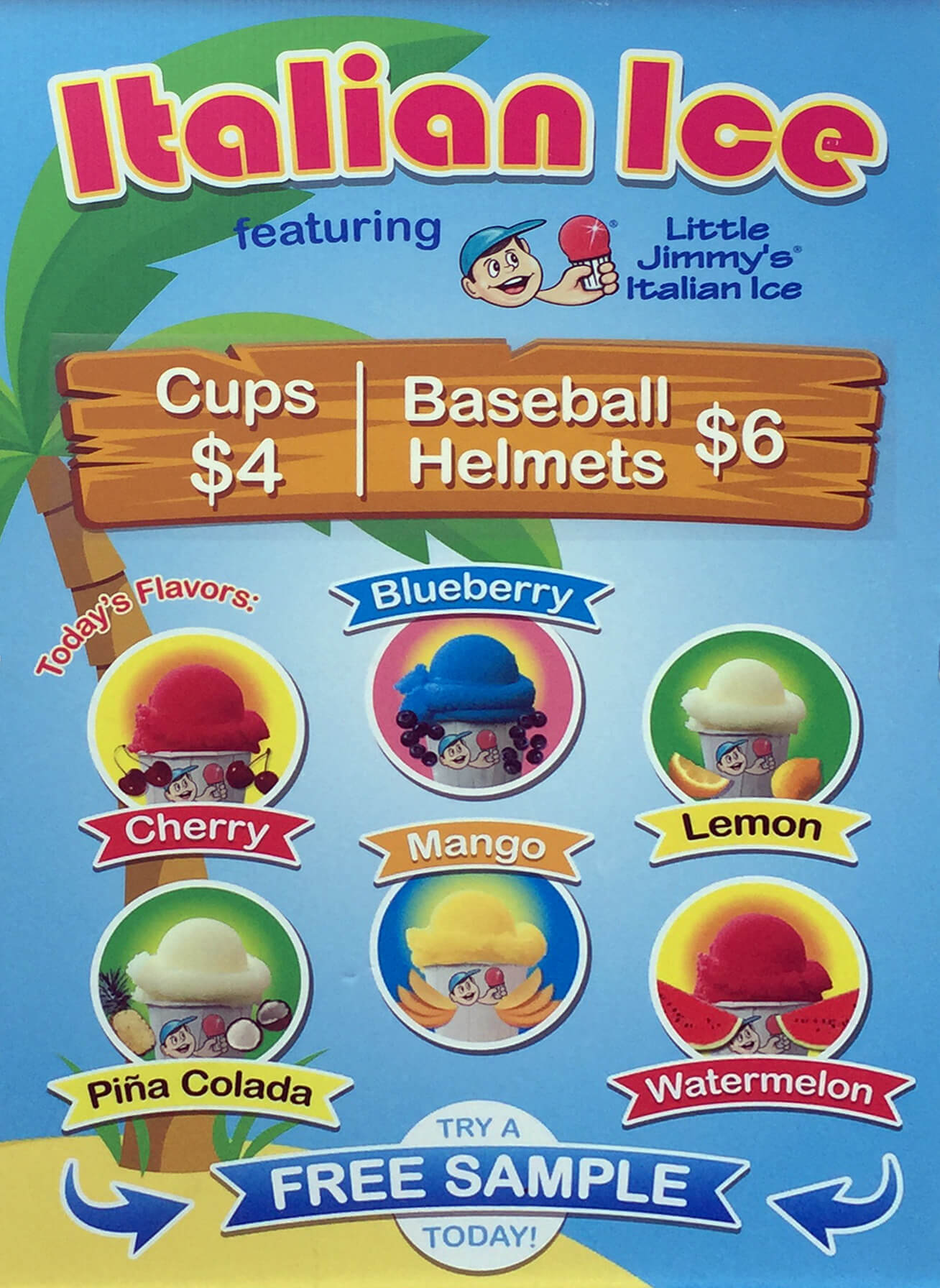 We offer 4 different plans and packages to choose from to assist you with your next party or event!
$150 / $300 PLANS
For just $150 Sea Breeze will bring to your party, event, church, or company our Italian Ice and serve all your guests and/or employees for you (up to 50) for one hour. For $300 we will stay two hours and serve up to 100 people. You may choose up to 4 of our yummy 14 flavors!
For groups larger than the number in the plan your choosing from this package we will give you a discounted rate of only $3.00 per person, per serving, for each one served over your plan's total.
$450
For a flat fee of only $450 we will deliver to you one of our four-can push carts and you may use the cart at your leisure (for one day), serving our delicious Italian Ice yourself during your event! Included in this package is the cart filled with 4 five-gallon cans of any of our Italian Ices (upon availability), scoopers, cups, and spoons! At the end of your event you keep the left over ice to re-freeze in your freezer, using it again at future events!
Just return to us the cart(s), scoopers, and any unused cups and spoons. Each can of ice will serve 75 people (4 scoops each) or 150 people (2 scoops each)...so by selling at $5.00 per cup you will make $375 on each can, $1500 for all four cans! This means your net profit will be $1050!!! If you don't want to sell it, just give it away!
Remember, any left over Italian Ice your stuck with, just put it in your freezer to sell or give it away at your next event....no waste...NO RISK!!
No Charge
With this plan, you may want to have us come and set up at your event or place of business, and not pay us. Based on the type of event, and how many your expecting, we will come for an agreed upon length of time and sell our ice to any who come to buy. For this opportunity, we will give back to you 15% of our sales! This is a great way to draw more attention to your business while making money at the same time...A WIN WIN FOR BOTH SIDES!! Employees and customers purchase the ice...we give to you 15% of sales as a way of saying THANK YOU! NO RISK!!
Our Italian Ice is so good that our customers often ask us if they can simply purchase some and take it home! Presently, we sell our ice at $35 for a three gallon can and $55 for the five gallon can. We can sell our customers pint size and quart size if the customer provides the container. This will cost $4.00 for pints and $6.00 for quarts. Our Italian Ice has a freezer life of one-two years...SO STOCK UP!!
$35 / $45
THERE IS NO EVENT TOO SMALL OR TOO BIG FOR US!! WE HAVE MULTIPLE CARTS, THEREFORE, WE CAN SERVE ANY SIZE EVENT!! WE ARE QUITE INVOLVED IN SERVING FESTIVALS, WHERE WE HAVE SERVED UPWARDS TO 3000 PEOPLE IN A SINGLE DAY!!!
Sea Breeze Italian Ice is rapidly growing to expand into other States, but until then, we will travel anywhere you need us! All events and clients within an hour from your local Sea Breeze location includes our free travel.
For distances past that we charge $1.00 per mile plus any overnight accommodation.